Parking at The PAD is FREE, but limited to a first come, first serve basis. We have partnered with a local organization nearby to provide a satellite lot. Please utilize our port cochere when checking in to unload, then follow these directions to park if there are no spaces available in our lot.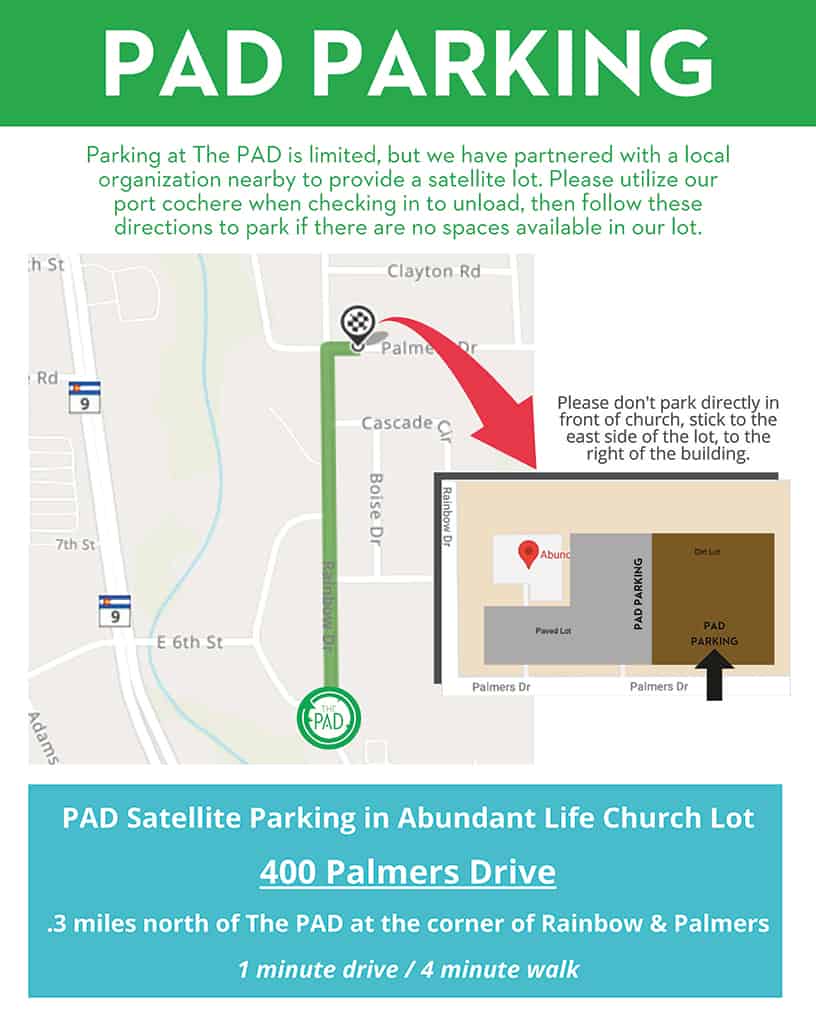 We are both! The PAD was designed with the idea of hybrid hospitality, offering various room types for various budgets. By providing a plethora of lodging options, we hope you'll find your place at The PAD, and use us as a jumping off point for your adventures in and around Summit County.
Yes! We offer same-sex dorm lodging, as well as co-ed options, so you can choose your adventure :)
Contrary to popular belief, you don't be in a locker-room-style open shower here at The PAD. Our shared bathrooms, which are utilized by guests who are staying in our Shared Dorms, Micro Rooms & Family Room, feature private toilet and shower stalls and an open vanity. Shower stalls are equipped with a lockable changing area with a rack, hooks & stool for your convenience.
All bunk beds are assigned an accompanying locker for personal items. We do not provide locks, but have them available for purchase at the front desk. We recommend you bring your own lock to keep your belongings safe and secure!
Yes! We would love to accommodate your large group, depending on availability. We have 4, 6 and 8 person bunk dorms, and will be flexible to suit your group's needs. Pending your party's preference, we can also discuss renting out sections of The PAD for your stay, such as our Micro Room corridor, or another area that has various rooms types but will still keep you all in one place.
We have built-in lockable storage in the bunk rooms for our guests' smaller items. We also have a guest only gear storage area outfitted to secure your bigger items such as ski boots, skis, bikes, golf clubs, bikes, etc. – complete with video surveillance. There will be entrances to gear storage from inside and outside of the building for convenient access, and only people with a room key will be able to enter the gear storage area.
Yes. You must be 18 years or older to reserve and stay in a dorm room. Private rooms do not have an occupancy age requirement, but someone 18 or older will need to reserve and stay in the room with any minors.
Coming in 2022, a local chef will be utilizing our restaurant space to open Graze and Torreys. You can find more info on that here. In the meantime, we offer our Guest Kitchen for use of all guests at The PAD, which has all of the utilities and amenities to accommodate cooking anything your heart desires. We do offer some snacking and quick meal options at A-BAR and the front desk in case you don't want to make a run to the store.
We love pets! Dog-friendly rooms are available upon request, though they are limited and subject to availability. Advance reservations are required by guests traveling with dogs by emailing info@thepadlife.com prior to booking. All dogs must be registered with the front desk upon arrival. There is a $50 fee per dog, per stay. Pets assisting persons with disabilities will be allowed for no additional charge. Guests keeping unregistered pets will be charged a $300.00 cleaning fee and may be asked to leave the premises, thereby forfeiting any and all prepaid costs. Due to allergies, cats are not allowed on property.